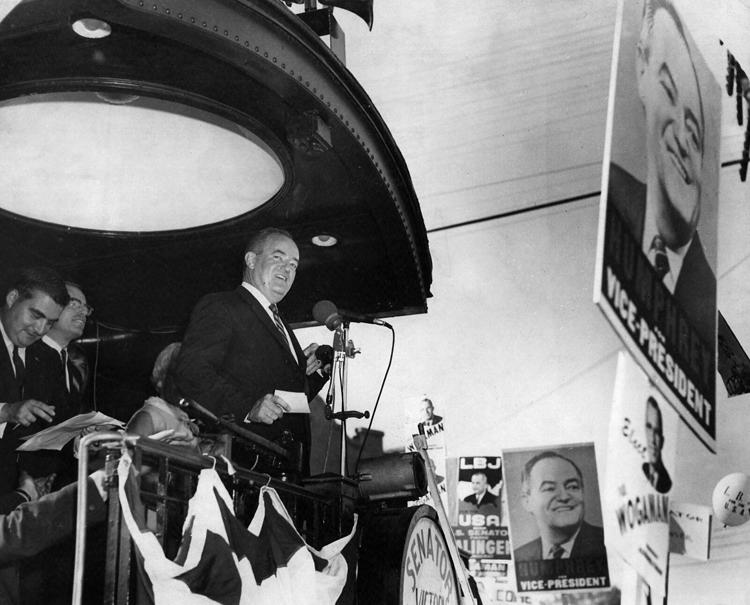 It's been a stranger-than-usual election year all over the country with many traditional campaign appearances and events either postponed or canceled because of COVID-19. Only in the last couple of weeks have President Donald Trump and challenger Joe Biden really hit the campaign trail.
But not in California. And that's nothing new for our state, which is considered a really blue bastion that will generate plenty of electoral votes for the Democratic Party ticket while candidates need make only occasional visits to collect chunks of campaign cash.
But there have been exceptions. The last time one of the candidates on either Republican or Democratic Party presidential-vice presidential tickets campaigned in our town was on Oct. 3, 1964.
That was the day an eight-car campaign special passenger train pulled into what had been the Southern Pacific Depot in the Bow-Tie Area — where the statue of a farmer and a railroader graces the round-about at Sixth Street and Central Avenue.
That campaign special carried Sen. Hubert Humphrey of Minnesota, vice presidential candidate on President Lyndon Johnson's 1964 ticket.
"The Happy Warrior," as Humphrey was often called, was "whistle-stopping" in California's Central Valley, speaking from the rear platform of the eight-car campaign special. The train, which started its northward journey that day in Bakersfield, made campaign stops in Tulare, Fresno, Merced and Modesto on its way to Tracy and finally Oakland. (Tracy was on the Southern Pacific main line in those days.)
A group of Democratic Party faithful from Tracy had boarded the train in Modesto for the brief trip to Tracy. They had a chance to meet Humphrey and invited me to join them to cover the event for the Press.
I can recall Charlie Payne, Ted Mackjust and Bob Mariano visiting the crowded passenger car where Humphrey held forth, I shook his hand before taking his photo greeting John Borges, a nine-year-old student at Tracy's El Portal School (now Monte Vista Middle School) who had accompanied his grandfather, John Espinal, on the campaign train.
As the train, labeled "the Humphrey Victory Special," pulled into Tracy, it was greeted by a crowd estimated at more than 1,500 people, some waving signs and balloons.
Not all the sign-wavers were Johnson-Humphrey supporters. Some — mostly young people — carried Barry Goldwater-William Miller signs. A few of the young opponents yelled comments at Humphrey after he began his 20-minute talk. The candidate responded: "They're just a noisy minority — just what they'll be on Election Day."
When one boy persisted in shouting his comments, Humphrey scolded him: "Listen, young man, you'd better get some manners."
Humphrey, who was welcomed to Tracy by Mayor Lorin Jolley, urged the crowd to support the Johnson-Humphrey ticket as the way to continue the policies of President John F. Kennedy, whom Johnson succeeded after JFK had been assassinated in Dallas a year earlier.
He also said the general election would give voters a choice between his running mate and a candidate (Goldwater) "who curses the darkness and never lights a candle."
Also speaking briefly at the Tracy whistle-stop was California Senator Pierre Salinger, JFK's one- time press secretary who was seeking election to the senate seat to which he had been appointed a month earlier to fill the vacancy created by the death of Sen. Clair Engle (D-Red Bluff).
About a month after Humphrey's whistle-stop in Tracy, Lyndon Johnson and his vice presidential running mate took a landslide victory over the GOP's Goldwater-Miller ticket in the November 1964 general election. In 1968, Humphrey was the Democrat's presidential nominee, but he lost to Republican Richard Nixon.
In less than two years after Humphrey's appearance in Tracy, on June 1, 1966, another candidate who would one day head a presidential ticket, campaigned in Tracy. That time, though, Ronald Reagan was seeking the Republican nomination for California governor. And, of course, he won that race, and several more, including the 1980 and 1984 presidential races, all by a landslide.
Sam Matthews, Tracy Press publisher emeritus (and 1964 political campaign reporter) can be reached at 830-4234 or by email at shm@tracypress.com.