It seems a favorite view on television news shows these days is a lab worker, always clad in white, peering into a microscope or dropping some kind of solution into a test tube. They, of course, are workers in a medical research facility, often in many corners of the world. And as we are told on the TV screen, they are searching for the holy grail of current medical science — a vaccine to protect all of us from the hidden enemy, the coronavirus that causes COVID-19.
I wish them all well, for a vaccine is a key to unlocking the door to the future — one more or less "normal," whatever that is.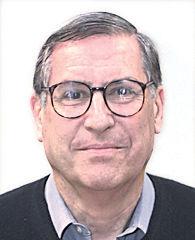 As I watched the familiar research lab scene unfold on the tube a couple of evenings ago, it reminded me that I had a connection with a researcher who no doubt donned a white coat in a medical lab more than a century ago in Chicago. He was the reason I carry the name Samuel H. Matthews. He was Dr. Samuel A. Matthews.
Dr. Matthews was a research physician at the University of Chicago School of Medicine. And he was also my dad's favorite uncle.
When it came time to name their second son on July 8, 1932, at San Antonio Hospital in Upland, my parents decided they would name him after their favorite uncles. My dad's choice for a first name was Samuel, for Dr. Samuel A. Matthews in Chicago, and my mother decided that for the middle name, it would be Hugh Jones, a mortician in Stillwater, Minnesota. The result was Samuel Hugh Matthews, the old guy still pounding the keyboard (nowadays attached to a computer) around Tracy 87 years later, and soon to be 88.
As I grew up, I remember my parents telling me I was named for my dad's favorite uncle, a bachelor doctor who had something to do with a cure for lockjaw. But that was all I knew.
As the years rolled by and computer technology made research into people's history easier, I dialed up Dr. Samuel A. Matthews, and a story that had appeared on Page 1 of the New York Times edition of May 24, 1903, popped up on the screen. It immediately made me even more proud of carrying the Sam Matthews name all these years.
Here's what the opening paragraph of the Times story read:
"CHICAGO, MAY 23 — Lockjaw, locomotor ataxia, uremia, and morphine poisoning, according to an announcement made to-day at the University of Chicago, can be cured or partly cured by newly discovered means. Dr. Samuel A. Matthews is the discoverer, and after repeated tests by himself and professors at the university laboratories, it has been pronounced successful. In almost all of the diseases named a practical application of the remedy has been successfully made."
The story went on list the basic ingredients in the antitoxin and to recount Dr. Sam's yearlong efforts to make proven, practical applications of theories developed by two professors at the Chicago medical school that the action of inorganic salts on tissues of the body was electrical.
"Probably the most important cure effected is in the line of lockjaw. It was found that in cases of rabbits into which large doses of tetanus toxine had been introduced an injection of the salt solution appeared to cleanse the tissues and effect a cure even after the advanced symptoms of the disease had been shown."
I later found that Dr. Samuel A. Matthews in the 1920s had become chairman of the Pharmacology Department of the Loyola University School of Medicine in Chicago. I never did meet the medical research physician for whom I was named, nor did I learn what the middle initial "A" stood for. I still have some more research of my own to do. No white coat needed.