We took Big Blue — yes, we called it Big Blue because it was big and very blue — on a trip to Solvang.
Now, you might think a huge 4x4 powered by a V8 wouldn't be the first choice for a 600-mile road trip. In my line of work, reviewing cars, I don't get to choose; I take what is given. And I was given a '19 Toyota Tundra TRD Pro.
Make no mistake, the Tundra is a big truck — as big as any from Ford, GM or Ram. Tundra doesn't have the biggest V8, but its 5.7-liter pumps out 381 horsepower and 401 pound-feet of torque. It is a thoroughly modern DOHC, 32-valve, all-aluminum, smooth V8. Toyota uses a six-speed automatic transmission. Power is transmitted through a part-time four-wheel drive. I never used four-wheel drive and frankly most of you won't either.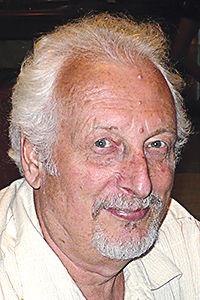 The TRD Pro adds a rumbly dual exhaust, a front skid plate (just in case you decide to visit the Carnegie State Vehicular Recreation Area), TRD Fox shock absorbers and 18-inch BBS wheels with P275/65R18 tires.
The test Tundra was a CrewMax, which translates to a four-door, five-passenger cab. The bed is a tad over 5½ feet long.
Those are the numbers. This is the driving:
As I said, such a big truck wouldn't be my first choice for a road trip. But it does have its advantages. Foremost was its size. No, really. There are a lot of really large trucks out there — semis and such — and when you're in a smaller vehicle, you can feel pretty darn vulnerable. The roads to Solvang aren't twisty, narrow, two-lane roads (even though parts are just two lanes); those would not have been the Tundra's forte. But the Tundra easily cruised Interstate 5, CA 41, CA 46, and US 101.
Even though the Tundra TRD Pro is designed for off-roading, or maybe because of that, the terrible condition of our roads didn't bother it. It laughed at potholes and crumbling pavement.
One thing that amazed me, and made me glad, was that there was not a multitude of electronic gizmos. Sometimes I get overwhelmed by the vast array of buttons and switches with their little pictograms. More and more I have to get out the owner's manual so I know what is what.
We didn't drive nonstop — we did stop a couple of times to stretch our legs and have a bite to eat. But 300 miles each way means a fair amount of seat time, and extended seat time can mean sore butts. Not a problem in the Tundra.
One problem when on a trip in a pickup is where to stow the luggage. You can throw it in the bed, but every time you stop you have to move it to the cab so it can be locked up. And if it rains you want it inside. This wasn't a problem for us — after all, there was just the two of us — but if your four-door Tundra is used as a family vehicle, you might want to consider a lockable bed cover. Just a thought.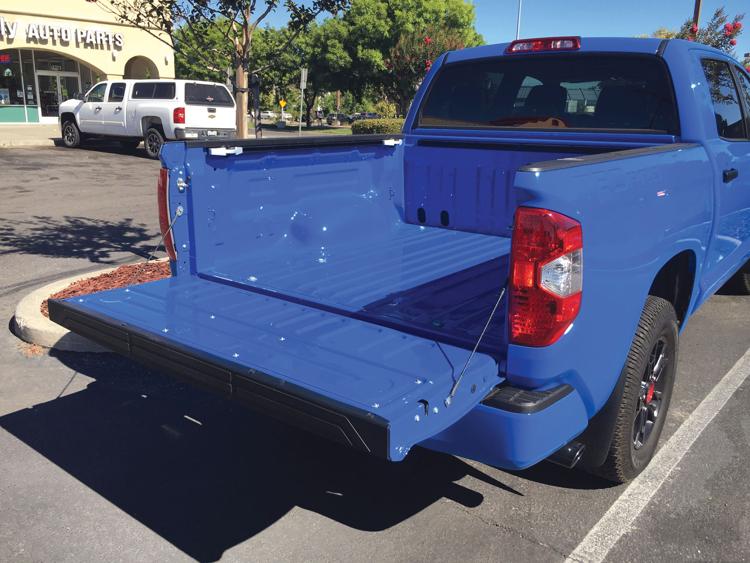 If you're around my age (old), you might not want the Tundra TRD Pro 4X4. The step-in height was 2 feet. I'm 5-11, but my joints aren't as flexible as they used to be, so I had to pull myself in — no grab handle on the driver's side. My wife, who is a fair bit shorter but more agile, used the passenger's grab handle to get in.
I erred with refueling and it cost me dearly. I should have gotten off 101 in Santa Maria for gas but missed my exit. I thought, "I can make it to Solvang," but about 20 miles later I decided it was time to fill up — the low fuel light came on. So we pulled off at the little town of Los Alamos. Fuel was $4.69 per gallon for regular. The TRD Pro has a 38-gallon tank. The pump shut off at $99, its limit. The fuel gauge was only at three-quarters full!
I didn't drive the Tundra hard or excessively fast. I use cruise control on the highway and usually set it about 5 mph over the limit — and even so I end up slower than many, especially on I-5. The TRD Pro is rated at 13 mpg in the city and 17 mpg on the highway. I got slightly less. This is on par with the competition, but I was disappointed. It is a big truck — it weighs 5,640 pounds — so I guess the economy is to be expected.
The Toyota Tundra TRD Pro is listed at $49,895 plus a $1,495 destination fee for a total of $51,390. I don't need or crave a big truck, but if I did this would be on my list.