Isabella Ellis, a 2019 graduate of Tracy High School, completed new student indoctrination for the U.S. Navy ROTC in July in Great Lakes, Illinois. As a first-year cadet, she has the rank of midshipman fourth class.
She was awarded the Navy ROTC scholarship and will attend University of Utah, majoring in biomedical engineering.
She is the daughter of Andrew Ellis and Doreen Ellis of Tracy.
Reservist completes Air Force basic training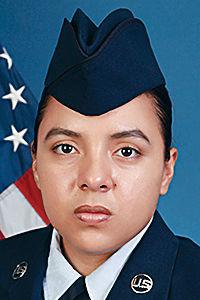 Airman 1st Class Andrea S. Abarca Cevallos, a 2016 graduate of Tracy High School, joined the U.S. Air Force Reserve and recently graduated from basic military training at Joint Base San Antonio-Lackland in Texas.
The eight-week program included training in military discipline and studies, Air Force core values, physical fitness, and basic warfare principles and skills.
Abarca Cevallos is the daughter of Silvia E. Cevallos De Abarca of Tracy. She earned an associate degree this year from Mission College in Santa Clara.