"Today, I took part in the 75th D-Day Anniversary Ceremony."
That was the opening sentence of an email message I received Thursday morning direct from Normandy, France. It came from Army 1st Sgt. Lorenzo Souza, a paratrooper who is a native of Tracy.
His unit, an infantry battalion of the 173rd Airborne Brigade stationed in Vicenza, Italy, assisted the Secret Service by providing security for President Donald Trump.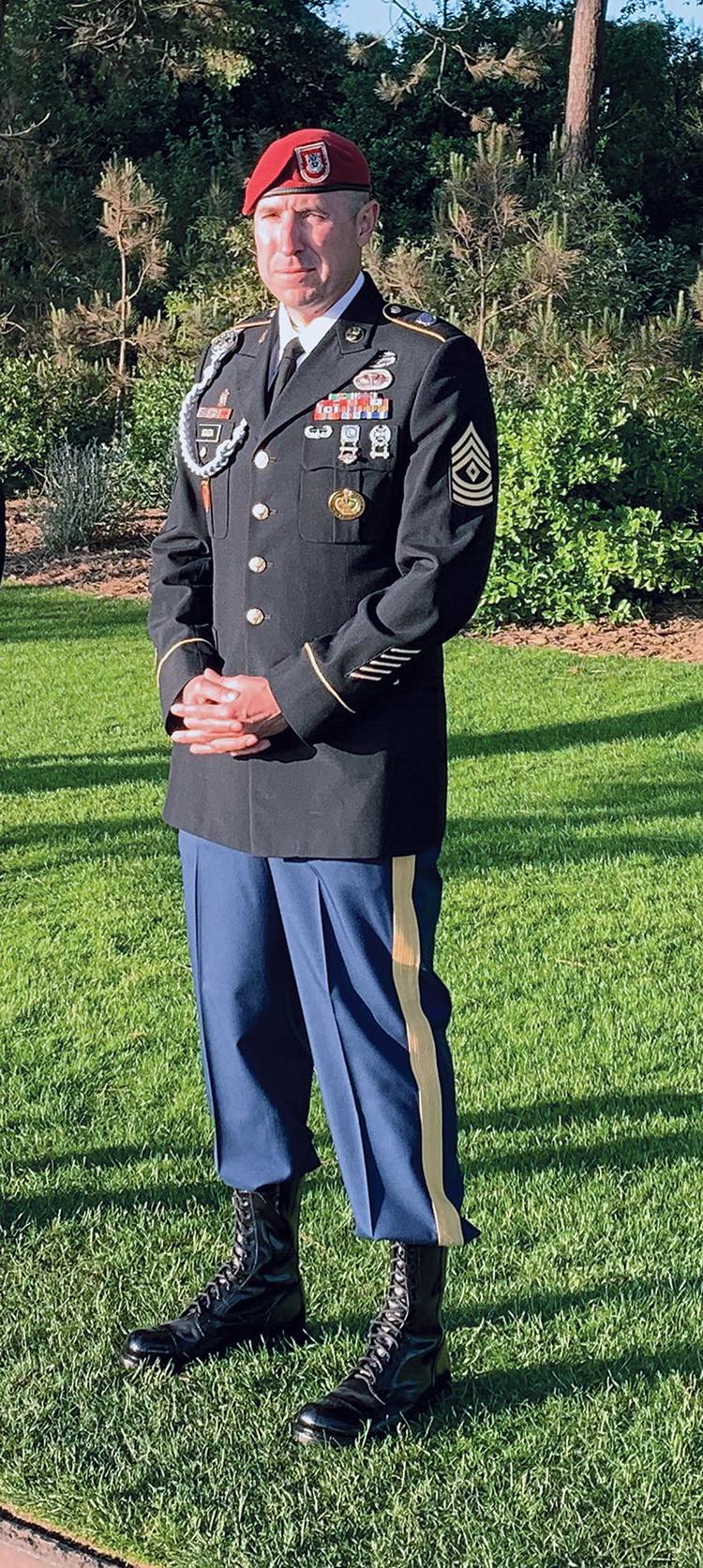 "Prior to that, I had the opportunity to escort two World War II vets to the stage and help them to their seats to be recognized," Lorenzo continued. "I also had the privilege to meet a family whose loved ones paid the ultimate sacrifice on this day in 1944."
The 38-year-old paratrooper said he also met with some Gold Star families whose family members were killed in action in Iraq and Afghanistan.
"The jump is still a go for Sunday," he reported. His unit is scheduled to be part of mass parachute landings by airborne units from a number of World War II Allied countries.
The jump commemorates D-Day's opening hours, when U.S. paratroopers landed in Normandy to disrupt German responses and secure landing sites for gliders bringing troops to positions behind the German lines.
We at the Press first heard from Lorenzo earlier last week, when he reported he would be taking part in the D-Day 75th Anniversary Ceremony and related commemorative activities.
"I was born and raised in Tracy and left to join the Army when I was 22 years of age," he wrote. "I have been in the Army for 16 years."
He asked if we would be interested in mentioning his participation in the Normandy events, and I replied that we certainly would. He emailed me again:
"I have always been amazed at the rich history of World War II. I visited Normandy with my wife and two children several years ago as a young soldier and now have the opportunity of returning for the 75th commemoration of D-Day. This is such an awesome opportunity. I am extremely humbled."
Lorenzo said he grew up in a low-income housing project in Tracy, and then added:
"Thinking back to my humble beginnings, I am proud to be from Tracy. I have never forgotten where I came from or the support from my hometown."
Next week, I hope to share the Tracy native's additional report on his jump and further activities commemorating D-Day.
A D-Day hero recognized
Last week's column reported on the participation in the D-Day landings by Tracyites I had learned about or interviewed over many years.
Unfortunately, there was mention of one D-Day veteran not included, and I'm sorry circumstances prevented this from happening.
Sam Matthews remembers the men who were the tip of the spear for the Allied victory in World War II.
I'm referring to Ray Kuykendall, who served with the 82nd Airborne Division's Glider Infantry, which landed in Normandy in the early morning hours of June 6, 1944.
A former longtime employee of a number of Tracy food markets, he was a resident of the Astoria Senior Living care facility who died April 20 at the age of 93.
Several weeks before his death, Dave McClanahan, the former Tracy motorcycle cop, told me that he had learned that Kuykendall had quite a record during World War II and thought it would make a good story. I didn't know at the time that his service included D-Day.
We arranged an interview, which was postponed once because of conflicts and then scheduled again. But then Dave reported that Kuykendall was not doing well and we'd have to wait for him to be available to talk to us. That was not to be. Dave called April 20 to tell me Kuykendall had died that day.
His obituary in the Press told of his landing in Normandy on D-Day and his service in Holland and later in the Battle of the Bulge, earning two Bronze Stars and a Purple Heart.
Recognition delayed, but well-deserved.