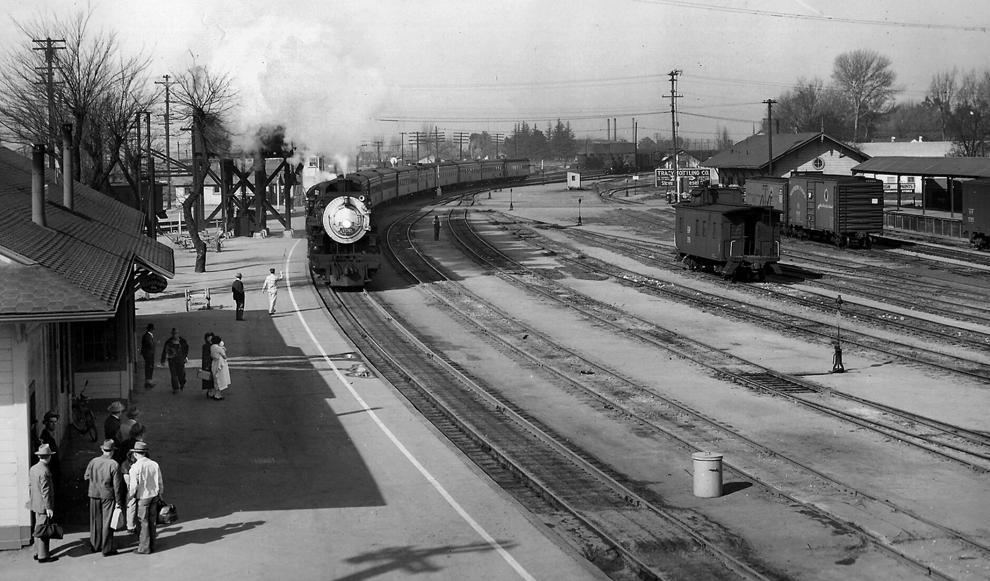 It was totally unexpected, but the date of April 30 popped up twice on my computer's screen earlier this week.
It was while I was writing about the history of passenger-rail service in Tracy that I first noted that it was 50 years ago, on April 30, 1971, that the last San Joaquin Daylight passenger train pulled into to Tracy's Southern Pacific Depot.
And then I realized that exactly 50 years later, on April 30 this year, another milestone was reached for passenger trains in Tracy. It was the date that the all-essential Environmental Impact Report for the Valley Link light-rail system was completed and submitted for ratification by the board of the Tri-Valley— San Joaquin Valley Regional Rail Authority.
The first April 30 anniversary, on April 30, 1971, marked the demise of passenger rail service in Tracy, which had been inaugurated in September 1878 when our town was founded as a Central Pacific Railroad junction.
The second April 30 date, reached a couple of weeks ago, signaled a major hurdle was being crossed in the process of creating a local version of a different form of passenger rail — light-rail — which is projected to start service in 2028.
From looking seven years into the future to revisiting 50 years in the past, I should report that I was among the Tracyites feeling some nostalgia and a touch of sadness on April 30, 1971, the day that the last San Joaquin Daylight pulled into the SP depot. (Nobody called it the transit station back then.)
After the north-bound Daylight came to a halt, I immediately spotted the red and orange-colored train's conductor, Tracy railroad legend Chester Wampler, who was No. 1 on the SP division's conductor seniority list.
Chester wasn't alone for long. He was greeted by quite a few SP employees, past and present.
Actually, although the northbound San Joaquin Daylight — final destination the Oakland dockside "Mole" — was the last passenger train of that era to arrive in Tracy, it wasn't the last Daylight to leave.
A few days later, the last Sacramento Daylight, which consisted of several passenger cars that had been detached from the San Joaquin Daylight in the local yard, headed from Tracy to Sacramento.
But let's not forget ACE. The Altamont Commuter Express (now Altamont Corridor Express) gave rebirth to passenger rail service in Tracy on Oct. 19, 1998.
The first ACE trains rode the Union Pacific rails for one round-trip each weekday. Within a few years, more weekday round trips were added, bringing the total to four by 2012. Saturday service began in 2019.Trains 5 and 6 were shut down by the Covid-19 pandemic and reintroduced May 3.
ACE has been one of the most successful commuter rail systems established in the U.S. in recent years, and its track record bodes well for its expanded role as operator of both the 86-mile ACE and 42-mile Valley Link systems in traversing the Altamont Pass.
In the future, there will no doubt be more ACE trains put into service, and there is a planned extension south from Lathrop through Manteca, Modesto and Turlock to Merced, with the potential of connecting to high-speed trains from Bakersfield and Fresno. Rerouting ACE trains through central Tracy by using the original Southern Pacific Line from Stockton is being considered.
A half-century ago, with the end of San Joaquin Daylight service, there was little hope for passenger-rail's return to Tracy. But the place of passenger rail in the nation's transportation mix is changing, and ACE and Valley Link are welcome local elements of that change.
Now if ACE and Valley Link can attract the level of public funding and the degree of passenger support needed to continue their developments . . .
Sam Matthews, Tracy Press publisher emeritus, can be reached at 830-4234 or by email at shm@tracypress.com.