It was a half-century ago, in June 1970, that Tracy experienced its shortest tenure in office of a mayor in its history — two months. Those were the days, starting when Tracy was incorporated in 1910, that mayors and vice mayors were elected from among members of the City Council with terms usually of one year.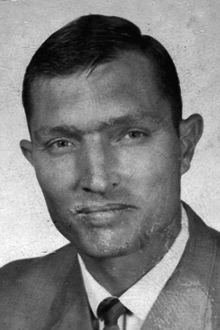 The mayor in June 1970 was Travis Foster, who had been elected mayor on April 14 on a 4-1 vote of the council. Travis, who was a seventh and eighth grade science teacher at Senior Elementary School — later named Clover Middle School — had never been involved with city politics, but he won a seat on the City Council in 1968 in a surprise outcome of a municipal election. He edged favored incumbent Councilman Willard F. "Woody" Souza for the second of two seats by 22 votes.
Travis based his campaign on urging voters to "take a fresh look at a good young man for Tracy." The 32-year-old native of New Mexico served as vice mayor in 1969-70, his second year in office, the next step to the mayor's chair.
I'm sure Travis, who was a genial guy who could play country music on his guitar, had every intention of serving out his year in that chair, but he quickly learned that being mayor, even with the city manager system, was a whole lot different from being a council member or even vice mayor.
Presiding over City Council meetings is just a start that the public sees. It takes much more time, energy and concentration on city business between council meetings to do the job right. Determining council priorities, working with the city manager to develop agendas for council meetings, appearing at numerous local public functions to represent the city, and taking part on a variety of committees, both in Tracy and throughout the county, all require not only time but also attention and concentration.
And people close to City Hall, including this newspaper reporter, could see that Travis wasn't keeping up with his mayoral duties and wasn't paying much attention to issues that went before the City Council. We weren't too surprised when he resigned as mayor two months after taking office, but no one expected him to leave the City Council to boot. But he did both.
Since Travis wasn't at the City Council meeting the night his resignation letter arrived, the notification of his dual resignations came in the form of a letter to the City Council. In it, Travis thanked the council and voters for supporting him.
After the council accepted the resignations, the sharing of power between Bill Adams and Richard Hastie continued.
In 1968, the two political rivals were both nominated by council members for a one-year term of mayor, and it took a marathon City Council meeting with eight tie votes in closed-door sessions. Adams, a PG&E employee, finally emerged winner after one council member (believed to have been Earle Williams) decided to no longer abstain and voted for Adams. Adams served as mayor in 1968-69, followed by Hastie, an insurance agent, in 1969-70.
After Foster resigned in June 1970, Adams was elected mayor, this time by a unanimous vote of the council, a vote that for the first time was held in public. Hastie and Adams were believed to have agreed on flip-flopping the mayor's position, since there no further stalemates. Hastie became mayor again in 1971-72, and again in 1972-73. He made sure that the new city hall, which he had played a major role in building, was dedicated in the spring of 1973 while he was still mayor.
The trading back and forth of the mayor's gavel might have smoothed over things in City Hall politics, but it wasn't popular among many Tracyites. They wondered aloud why they could elect City Council members but not the mayor. Joan Sparks, while serving on the council in 1984, heard the voices and organized a petition campaign to place a proposition calling for the direct election of the mayor on the 1984 municipal election ballot. The measure called for the mayor to be elected to a two-year term, instead of the City Council members' four-year term. It was approved by voters in a lopsided vote.
In the June 1986 election — the first time the public could vote for mayor — Hastie, who had left the council in 1974 when all three incumbents up for re-election were ousted, came out of retirement and ran for mayor. He easily bested two opponents, longtime Tracyite Ray Morelos and newcomer John Ehman, to become Tracy's first directly elected mayor.
His hope of serving four years in the mayor's chair were dashed, however, when Lester "Scotty" Scott, operator of a service station and bait store, opposed him in the 1988 election. Scotty ran "against city hall" in a campaign deftly orchestrated by his daughter, Debbie Wingo, and took an upset victory over a greatly disappointed Hastie.
The mayor's two-year term of office continues to impact City Hall politics to this day — current Mayor Bob Rickman will testify to that — and occasionally I've heard people say it's time for the mayor to serve a four-year term. Is it?