Travis Foster, a Tracy middle school teacher who served the shortest term as Tracy mayor in our town's history, was the center of a Tracing Tracy Territory column last June 26.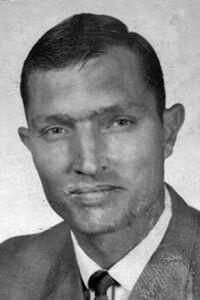 It was the 50th anniversary of Travis deciding in June 1970 that after a couple of months wielding the mayor's gavel, he had had enough dealing with the various mayoral duties tacked onto his position as a member of the City Council. That prompted him to up and quit. He resigned not only as mayor but also from the Council.
The other day, I received an email from Travis's wife, Janelle, also a former Tracy teacher living in Portales, New Mexico.
"Just wanted you to know Travis was killed instantly in a car accident on Jan. 13," she wrote. "We are all still in shock over this dreadful happening."
Janelle said both she and Travis had "many fond memories of Tracy," as teachers and in politics — and with the Tracy Community Players — "all many years ago."|
"After leaving Tracy in 1993 and moving back to our hometown of Portales, N.M., we still continued to visit Tracy almost yearly," she wrote. "We were always quite surprised to see the continued growth of Tracy."
I remember Travis not only for having Tracy's shortest term as mayor, but also the tall, lanky guy playing the guitar and singing western tunes at the Tracy Little Theatre — with a down-home accent straight out of Portales.
A recent Remember When "mystery photo" of a boat-launching elevator resulted in a Terra family feud with two answers. But alas, a tie-breaker has arrived. It comes from Don Low:
"Sam, Evelie Grebil is right. That's the Oasis Marina (with an elevator boat launch). Launched my boat there many times. Tony's was a sling system. Straps were placed under your boat and then raised off the trailer and placed in the water."
Stan Strain also identified the Oasis Marina in the photo, reporting that the elevator lasted only a few years before being removed.
Sorry, Joe. An older sister can be right once in a while.
Joe, while confessing he "guessed wrong" on the identity of the marina in the photo, reported that a map of the Delta that showed all marinas and their methods of launching boats settled the issue. Credit for having the map, he noted, should go to his and Evelie's dad, the late Joe S. Terra, known as "the Striper King of the Delta."
Sam Matthews, Tracy Press publisher emeritus, can be reached at 830-4234 or by email at shm@tracypress.com.