The first park in Tracy Hills to be named for a Tracy citizen will honor a man whose influence spanned cultures and inspired his community.
On a unanimous vote Tuesday, the Tracy City Council agreed that Raymond P. Morelos Jr. Park will be the name of a 2.3-acre park in the Hillview development of Tracy Hills.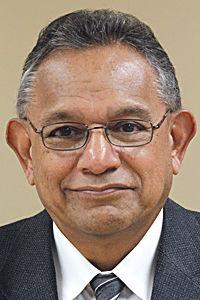 Morelos' name was the top pick among three possible choices, including Gene Birk Park and Daniel R. Schack Park, that emerged from a selection process that started with 11 applications and seven recommended names. The Tracy Parks and Community Services Commission made the recommendation at its March 3 meeting.
The linear park is a landscaped area between new homes in the Hillview portion of the Tracy Hills development on the east side of Corral Hollow Road. The park runs along the northeast edge of the development and is adjacent to an open space easement between the Hillview homes and the California Aqueduct.
Morelos, who died at the age of 76 on Jan. 14, 2021, was a former Tracy City Council member and a founder of the South Side Community Organization, but those who advocated for naming the new park after him said that Morelos' accomplishments and influence in Tracy went much further than that.
His daughter, Elisa Morelos Barrera, who nominated her father for the park-naming honor, said that in the year since his passing she continues to see how much he meant to his community.
"There's a lot that he did that I'm still finding out, still to this day. There's so much that he touched that is really coming to light now," she said.
Morelos was a fourth-generation Tracyite whose father, grandfather and great-grandfather worked for the railroad. He attended Tracy schools up until his freshman year at Tracy High, when the family moved to Sacramento. He graduated from Burbank High in 1963 and attended Sacramento City College before he was drafted into the military in 1965.
After four years with the U.S. Marine Corps, including service in Vietnam, he returned to Tracy. People speaking up at Tuesday's council meeting say that he soon transitioned from service to his country into service to his community.
Richard Soto, one of Morelos classmates at West Park School, recalled that within a few years after returning to Tracy, Morelos got involved with Rising Sun, where he worked as a substance abuse counselor.
"There in the 1970's Tracy, like many other communities, was experiencing racial conflict in the community and high school. Ray jumped in, volunteered to work with students and staff to help eliminate the problem," Soto said.
Walter Gouveia, a former counselor at Tracy High School, said that soon after meeting Morelos in 1979 they became close friends and colleagues.
"As a high school counselor I used his services because we didn't have too many services that could work with the youth," Gouveia said.
Morelos would be instrumental in starting the Tracy Latin Athletic Club and South Side Community Organization, and folks also highlighted many governmental and civic groups where he was active. After a 20-year career as a substance abuse counselor he and his wife Josephine ran El Castillo restaurant at Sixth Street and Central Avenue for another 32 years.
Juana Dement said that as one of her fellow co-founders of the Tracy Hispanic Business Group, Morelos was instrumental in the establishment of scholarships for Latino high school youths. She mentioned Councilman Dan Arriola as one of those scholarship recipients that Morelos influenced.
"Ray opened the door for you to sit there tonight. He was the first Latino to be sworn in as a city council member. He was also a mentor for many Latinos to get involved with government and education," she said. Arriola also acknowledged Morelos' influence on him, both as a teen and as he first got involved in running for public office.
Dement added that Morelos also stepped up to preserve the Our Lady of Guadalupe Center on First Street when it was threatened with foreclosure, and Soto said that the cultural diversity and acceptance in Tracy today is a testament to Morelos' efforts.
"We now have a more culturally sensitive and integrated community, where people live where they can afford to buy homes, their children are allowed to participate in any of the academic programs offered in the district and follow their career dreams," Soto said. "All of this because of the endless hours and days that Ray Morelos invested in the community that he loved, called home and raised a family in."
• Contact Bob Brownne at brownne@tracypress.com, or call 209-830-4227.