"We raised our glasses and gave a champagne toast to Tracy Moose Lodge No. 2283 on its 50th birthday, and then we started dancing."
Those were among the ways some 120 Moose members and guests gathered Saturday night to celebrate the formation of the local Moose Lodge on July 15, 1972.
The festivities took place at the Moose Lodge building on East Sixth Street, the oldest public building in Tracy. With the underwriting of a loan from Martin Lammers, it was constructed in 1899, a year after an original brick building in the same location was damaged beyond repair by the wind-fanned "Tracy Fire of 1898" that swept through all the business structures along what was then called Front Street.
Originally, the stately 1899 three-story lodge structure was the home of Sumner Lodge of Odd Fellows, but after the Moose established their Tracy lodge, in 1972, they started leasing the building for their meetings and social activities as the number of Odd Fellows activities began to dwindle. In 1974, Moose Lodge 2283 purchased the historic building from the Sumner IOOF Lodge, which was disbanded in the 1980s.
The building has a social hall, kitchen and bar on the ground floor and a seldom-used lodge meeting room occupying the second and third floors.
"The bar is quite popular as a cozy Moose gathering place with attractive prices for drinks," said Michelle Billings, coordinator of Saturday's 50th anniversary celebration. "The lodge's location on Sixth Street adds to its popularity."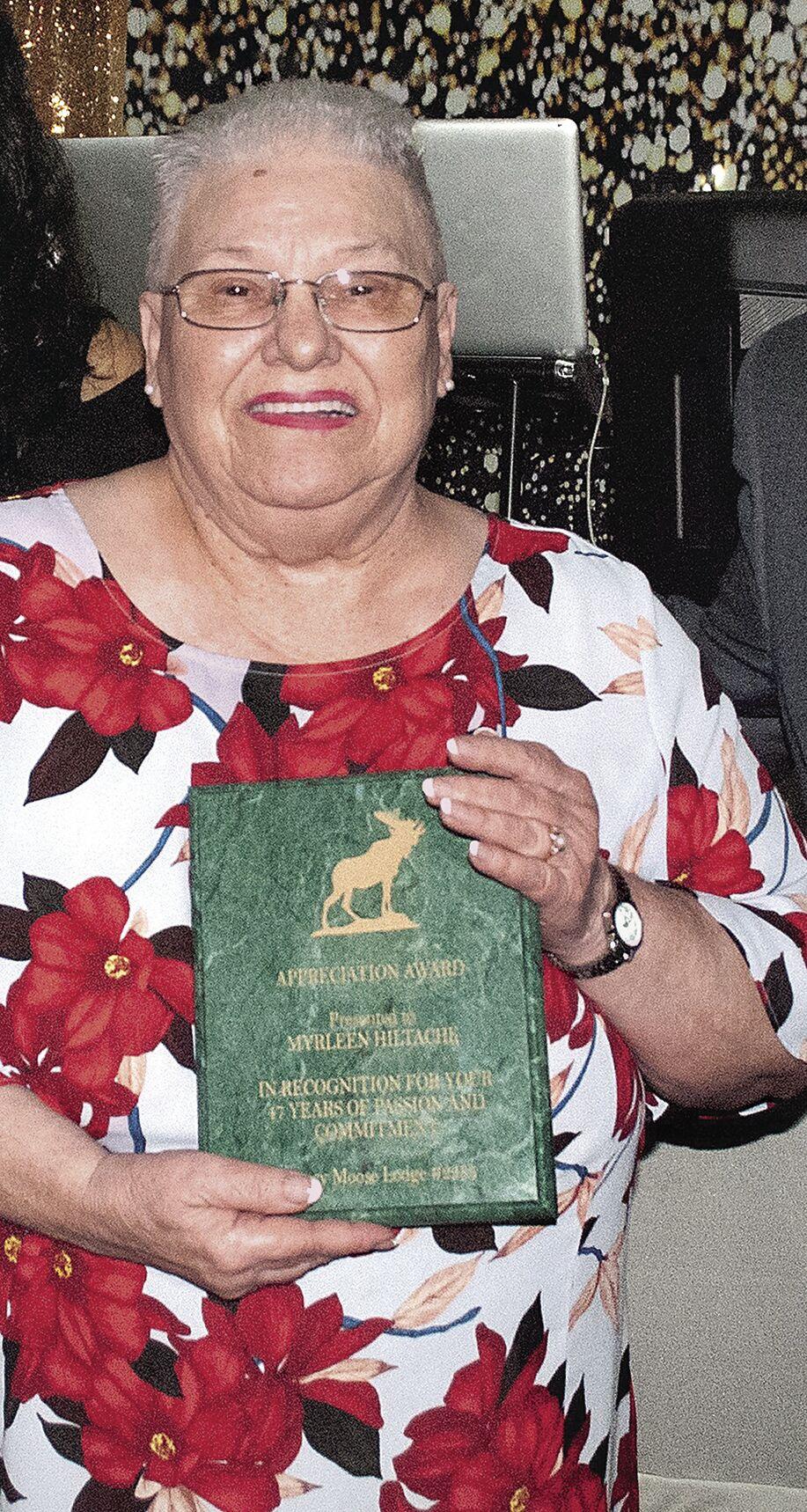 Saturday's celebration started with a social hour and then continued with a catered dinner and brief anniversary program that included the presentation of a community-service plaque by San Joaquin County Board of Supervisors Vice Chairman Robert Rickman to Ryan Smith, president of the board of the 735-member fraternal organization with both men and women members.
Billings and her assistant, Marcelina Blea, presented an award to Myrleen Hiltachik, one of two members with the longest participation —47 years —originally with Women of the Moose and more recently with the combined men and women's Order of the Moose. Opal Burt, also with 47 years of participation, could not be present to receive the award plaque in person.
Regular weekly activities of the lodge include taco Wednesday, Monday night hamburgers, a variety of Friday night dinners and Sunday morning breakfasts. Bingo nights have now been restarted.
An annual community event is the Moose Thanksgiving luncheon, which is open to the public. This year's luncheon at the lodge social hall is scheduled for Sunday, Nov. 13.
Before Christmas, the Moose take part in "Adopt a Family" and "Toys for Tots" programs.
"Looking at our calendar of regular and special events, you can see the Tracy Moose Lodge is an active non-profit organization, both for its members and the community," Billings said. "Fifty years, and still going strong."
• Sam Matthews, Tracy Press publisher emeritus, can be reached at 830-4234 and by email at shm@tracypress.com.