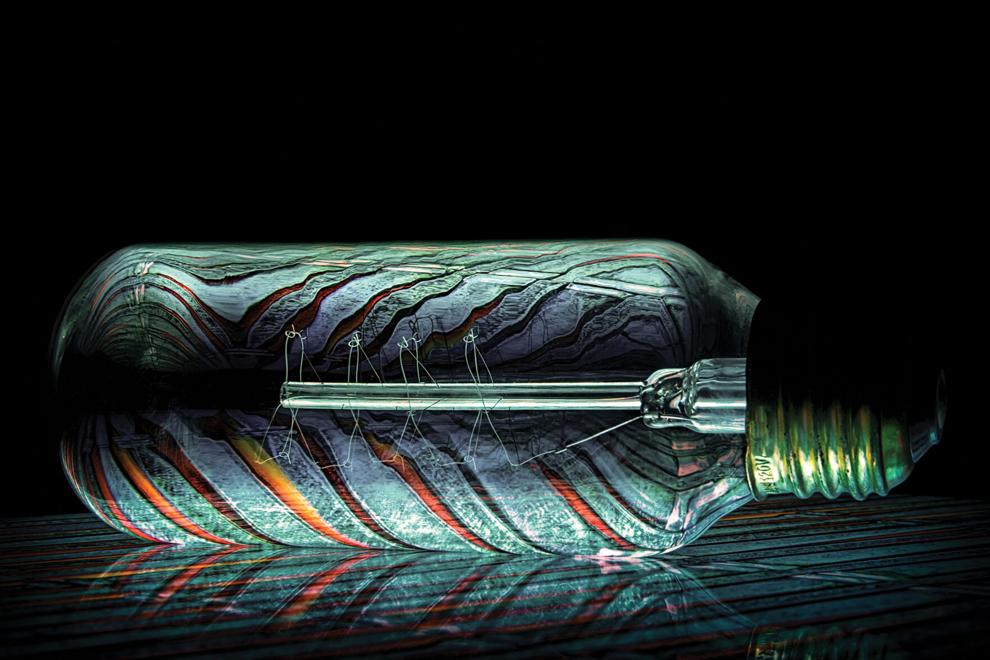 Mike Hodges' picture of a reflection in a glass bulb took top honors for the Tracy Camera Club's Photo of the Month for November.
Hodges said a key part of the photograph was his iPad.
"I have used my iPad for several of my images in the past, but mainly as a black reflective (mirror like) concept.  So, for this image, titled 'Bulb Reflective,' I again used my iPad as a photography tool," Hodges said.  "The goal was to capture the reflection of an image on the iPad screen onto the bulb.  I tried several combinations of background image/bulb shape before deciding on the elongated bulb with one of my previously shot abstract images."
He set up the picture in a dark closet with the iPad on a wooden stool. His Canon 90D was on a tripod almost level with the bulb, with a circular polarizer filter on the lens to cut down the glare.
"After that setup was the artistic part: arranging the bulb in the correct spot to capture the look I was going for, i.e; move the bulb closer or farther away from the edge and camera lens, spin the bulb to get the desirable reflective pattern, rotate the CP filter to get the glare out, and fine tuning the camera height as to not capture too much screen but yet enough reflection in the bulb, all in the dark.  This only works of course with a clear bulb,'" Hodges said.
On his Canon camera he had a Sigma 24-70mm f2.8 DG OS HSM Art lens set to a focal length of 60mm.
He used an exposure of 15 seconds with the lens set at f.11 with an ISO of 100 and processed the picture in Adobe Lightroom.
The Tracy Camera Club has members ranging from beginner to advanced and professional. New members are welcome to join, and more information can be found about the club at http://www.tracycameraclub.org.
• Contact the Tracy Press at tpnews@tracypress.com or 835-3030.