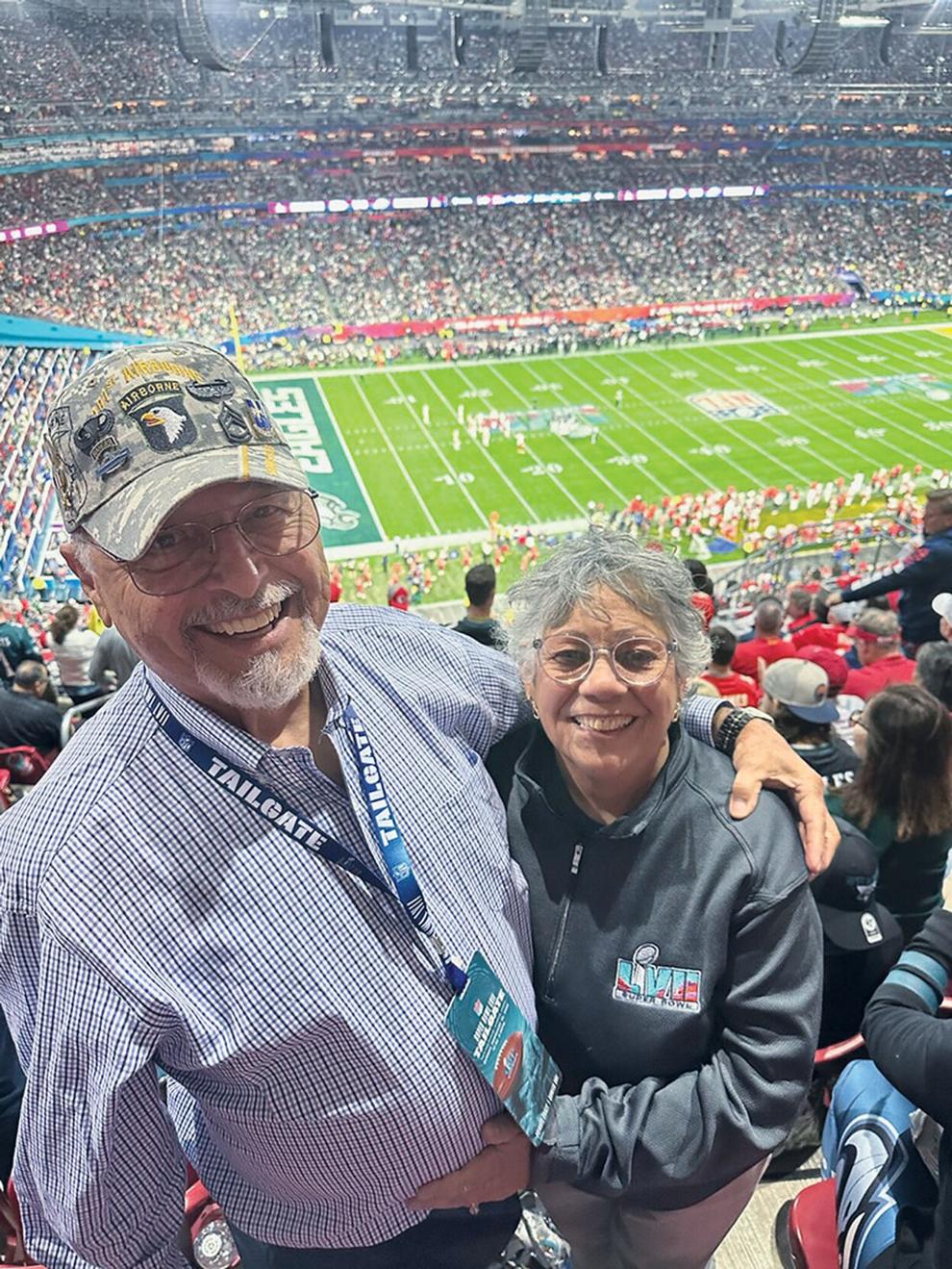 For Johnny Velasquez a chance to get Super Bowl LVII tickets seemed a lot like playing the lottery.
Then it turned out that it wasn't luck at all, but his service to his country and community that made him the obvious choice to be honored with the chance to attend the big game.
The folks giving away the tickets, USAA, the insurance and banking company dedicated to serving veterans, and the 101st Airborne Division, which Velasquez served with during his 10½ years in the U.S. Army, saw the retired police officer from Tracy as the most deserving for the trip. He was among the veterans who entered their names for a chance to be selected for the all-expense-paid trip to Glendale, Ariz., to watch the Kansas City Chiefs defeat the Philadelphia Eagles 38-35 at State Farm Stadium on Feb. 12.
"The opportunity came up about 3 months ago when I was asked by my military organization, the 101st Airborne Division, if I was possibly interested in being selected to go to the Super Bowl," Velasquez said. The prospect of seeing his team, the San Francisco 49ers, go to the NFL championship game was impossible to resist.
"I didn't really think too much about it, but as the 49ers got closer and closer, I said, well that would be icing on the cake."
Then, a few weeks before the game, USAA invited him to join an online Zoom meeting, where he was told that out of all of the veterans who turned in their personal biographies he was the most deserving.
During his time in the Army Velasquez was deployed repeatedly as a paratrooper with the Screaming Eagles, twice to Germany, and twice to Vietnam. It was during those tours in Vietnam, 1967-68 and 1970-71, that he earned four Purple Hearts for being wounded in action, twice on each tour, and he also earned the Silver Star, one of the military's most prestigious awards for distinguishing oneself in combat.
After returning home he embarked on a 32-year career with the San Francisco Police Department. Over the years he has also established himself as a dedicated 49ers fan, and San Francisco Giants fan.
The 49ers didn't make it to the Super Bowl, but Velasquez and his wife, Lillian, took the trip and saw the game. Once in Arizona they were the guests of Baltimore Ravens tight end Mark Andrews, and Velasquez was named in numerous social media posts and invited to do several interviews. USAA also invited him to be introduced at halftime, but he turned down that opportunity.
"There were four Medal of Honor winners that were there, and they weren't going to be recognized," Velasquez said. "I asked why. He said, 'Well, they weren't part of their program.' Out of respect I'd rather sit back and not do anything. They understood."
As a retired police officer Velasquez has plenty of time to travel in his RV and follow his favorite sports teams, his next adventure a trip to Phoenix to watch the Giants in spring training. After that he plans to take a trip to San Antonio, where the next reunion of the 101st Airborne Division is planned in August.
• Contact Bob Brownne at brownne@tracypress.com, or call 209-830-4227.