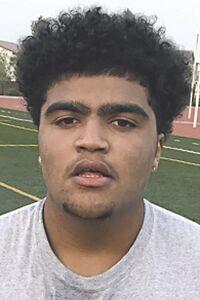 Cal Poly, San Luis Obispo
Big Sky Conference, NCAA Division 1
Once Dominic Childress determined that he would make football his focus his path toward an NCAA program quickly came into view.
That's when his love for the game inspired him to make the effort to be the best. Childress doesn't mind admitting that he didn't always have that passion.
"I hated football when I was a little kid, so I only played year and then I quit," he said. When he returned to the game, though, he had no doubt that he belonged on the gridiron.
"I tried to play again my freshman year but I got hurt and didn't get to play the full season, so I count sophomore year as my first true full season of playing football."
That was the year the Mountain House team claimed a share of the Western Athletic Conference title, and Childress returned to be a Mustang team leader on the defensive line in his junior year.
Senior year, though, was denied to him because of the COVID-19 lockdowns. Childress remained undaunted, and started working out on his own and with trainer Brandon Younger to hopefully get noticed by recruiters based on the limited video he had as a player and on video from his workouts.
"The whole situation with the lockdown pushed me to do better," Childress said. "I just stayed at home and I would work out by myself, and had the opportunity to better myself."
He lost weight, got stronger and built on a positive mindset.
By summer the recruiters were paying attention. Childress just had to hold out for the right offer.
Cal Poly, San Luis Obispo, also the Mustangs, was one of the NCAA Division 1 schools that paid attention.
"They really stood out to me because they wanted to take a chance on me," he said, adding that the coaching staff is interested in the whole student-athlete, and not just the football player.
"They really helped me with what I wanted to do with my life, figure out my major, and figure out what classes I'm going to take," he said.
While Childress envisions a career with the NFL, he also values the opportunity to pursue an education in psychology and sees himself pursuing a career as a child psychologist.
Now that he's signed his letter of intent Childress is getting right to work. He graduated early from Mountain House High, completing his high school diploma last month, and is enrolled at Cal Poly as of this week, signing up for courses and planning to begin workouts with the Mustangs next week.
Wayne State College, Wayne, Neb.
Northern Sun Intercollegiate Conference, NCAA Division 2
Allejandra Perea's softball journey began well before she stepped on the diamond. She grew up watching her older sisters play the game, so she was more than ready at the age of five to prove that she also had the skills to make her family proud.
"I first started off playing on a baseball team for Little League, and then my dad got me into softball, playing for his organization, Liberty League," Perea said, adding that as she grew in the game she saw both of her sisters, Olivia and Sophia, move on to college softball, which inspired her even more.
"Watching my sisters play throughout the years and them experiencing college ball was definitely something I've always wanted to be doing. My dad was also in pro-league baseball. My whole family is a very athletic family and I've always loved the game."
Perea counts travel ball as her primary experience, most recently for the LTG Lions out of Elk Grove. She also played junior varsity softball at Tracy High for two years. After moving up to varsity her 2020 season was cut short by the COVID-19 shutdown. She still holds out hope of getting in a season with the Bulldogs and coach Paulette Keeney for her senior year.
"I loved every team I was on. I loved all of the coaches, especially Coach Keeney is very helpful and an all-around great coach," she said. "She looks for the best in us and always helps us be our best, in school and on the field."
The coaches at Wayne State College in Nebraska, who were in search of a catcher and utility player, offered Perea her next opportunity after they saw her profile on a recruiting app. Perea said she traveled to the college and found a friendly coaching staff leading a competitive program.
In addition to playing catcher for the Wildcats, Perea will also study nursing with the career goal of becoming an emergency room nurse.
With COVID-19 shutdowns continuing to affect practice and competition schedules for athletes, Perea keeps up her own workout routine at home.
"My dad built a batting cage in the back yard when I was very little, so I work out in the back yard on my own and I go to the gym to work out," she said.
"It's really cool to be just like my sisters and be at the college level, especially showing my parents that I could do it through academics and athletics."