Tracy High recently announced the winners of the school's annual Blanket Awards, the top scholar-athlete honors at the school.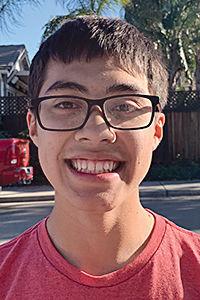 Soccer, track and field and cross-country
Once Mikel Concepcion reaped the rewards of hard-driven passion in pursuit of his goals, he became hooked on that mindset.
Concepcion is this year's recipient of the Jake Longmire Senior Outstanding Athlete Award for Men, one of Tracy High's annual Blanket Awards. It's an honor he didn't expect, but he was glad to learn that four years of dedication on the soccer field, cross-country course and track had led to the prestigious award
"I've learned so much about myself and how much stress I can truly handle. I think this step, Tracy High, was to build up my confidence in who I am," he said. "It's been a struggle, with academics and sports. There's been times when I didn't think I could do it, but knowing I could push through it, make myself more confident, make myself trust myself a little more, Tracy High has taught me to do that."
Concepcion is one of the Bulldogs' all-league soccer players. In his junior and senior years, he took on cross-country and track and field, running the 5,000-meter courses in cross-country and the 400-, 800- and 1,600-meter races on the track.
He did it while maintaining a 4.33 GPA, including International Baccalaureate classes in biotechnology, chemistry, mathematics, philosophy, Spanish and English. He will go to UC Irvine to major in biology and intends to go on to medical school with the goal of becoming an emergency room doctor.
Concepcion figures that his course load and athletic achievements have prepared him well for a high-intensity college and career path.
"It's definitely been hard, taking all IB classes and also trying to excel at sports, but taking that in mind, I knew I could do it," he said. "Junior and senior years were definitely two of my hardest years, having to juggle sports and education."
He got involved in running competitions after establishing himself as a standout soccer player. He played soccer all four years at Tracy High, and when high school soccer was not in season, he played club soccer. The Bulldogs wrapped up the 2019-20 season as co-champions, with the Tokay Tigers of Lodi, of the Tri-City Athletic League.
His favorite memories involve his teammates. He recalled that last year's County Clash 7 track and field meet at Oakdale High was where he and Bryce Pasquale, the 2018-19 Blanket Award winner, challenged each other in the 1,600 meters. Concepcion ended up shaving about 4 seconds off his previous best time to run the race in 4 minutes, 42.27 seconds.
"I had never hit below 4:45, and so being able to hit 4:42 was a great milestone for me, because I never hit that after," he said. "I like to think it was because of Bryce and him pushing me. I definitely hold that to heart. It just shows how strong I can be when I put my mind to it."
He added that it was an example of how coaches and teammates instill the value of hard work in each other, something he hopes he was able to pass on to younger teammates.
"Cross-country and track and soccer have definitely taught me that teamwork is super important, one of the most important skills that you can take into life," he said.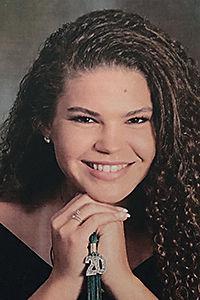 Water polo, track and field, soccer
Through her involvement with sports Arianna Graziano learned the value of her Tracy High community, the value of teammates, and her own value as a role model for the student-athletes who followed her.
"As I continued to join teams, a lot of the coaches are teachers at the school, so I got to know a lot of the staff and get to know teachers before I had them for later years," she said. "Having teammates in classes and getting to know people as the years go on, it makes it a lot more welcoming, and a lot more fun."
Add to that the camaraderie in practice and on road trips for games, tournaments and meets and she found plenty of opportunities to make memories.
"It's my favorite part of high school, being involved in sports and the athletics programs at Tracy High," she said.
Graziano is this year's recipient of the Dr. John Kimball Senior Outstanding Athlete Award for Women, one of Tracy High's Blanket Awards. She competed with the water polo team for four years, participated on the throws squad for the track and field team, and also played soccer at Tracy High.
She was the goalie for the Bulldogs varsity water polo team for three years and was one of the team captains in her senior year. It's just one aspect of her involvement at Tracy High, but she always knew it would be an important part of her high school experience.
"I grew up playing sports, and going into high school I knew I wanted to do sports still," she said. "Being on the team was so helpful because the coaches were so concerned about our grades and us being good students, so we had to self-manage and keep our grades up for the team.
"As a person you learn how to take care of yourself while being considerate for others, because everything you do affects your teammates," she added, noting that sportsmanship was an important lesson as competition in the pool heated up. "It teaches you how to be super self-sufficient, and how to have time management, and dealing with other teams who aren't as nice as Tracy High, who don't have the 'be the bigger person' reputation that Tracy High does."
Graziano will attend San Joaquin Delta College, where she will continue playing water polo. She plans to eventually transfer to a state university, mostly likely Chico State or Fresno State, to major in animal science.
Her career goal is to become a large-animal veterinarian, an extension of her experience with Tracy High's FFA program, where she raised lambs to sell at San Joaquin AgFest.