Two West High seniors have confirmed their college plans for the 2020-21 year and recently signed letters of intent to accept athletic scholarships at NCAA schools.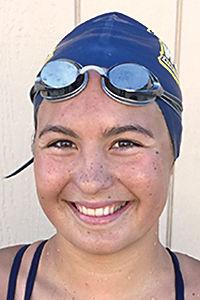 California State University, Fresno
Mountain West Conference, NCAA Division 1
Caitlin O'Neill has left her mark on West High aquatics like no other athlete before her. In her freshman year, she broke every individual swimming record in the Wolf Pack record book, and by the end of her junior year, her name was on all the records, including those for all three relay events.
The COVID-19 shutdown of the spring 2020 California Interscholastic Federation season meant that she didn't get to continue setting new standards for West High swimming in her senior year, though West High has recognized her accomplishments by naming her the Wolf Pack's Female Athlete of the Year for 2019-20.
"I'm very grateful to my coaches and my teammates and my school for helping me achieve all of this," O'Neill said. "I wouldn't be where I am without everyone who helped me and supported me."
O'Neill started with the Tracy Tritons when she was 6 years old, and two years later she was into USA Swimming competition as a member of Ellis Aquatics. She has tried other sports, including soccer, and was also a key player for West's girls water polo team, but the pure competition of competitive swimming is what motivates her the most.
"For me, I like the aspect that swimming is both a team sport and an individual sport," she said. "You swim your races by yourself, and it's just you, but they also have the team aspect with relays and your team cheering you on, and you're always practicing with your teammates. It gives you the chance to go out and show everyone what you can do while being backed up by the team."
Her next stop will be Fresno State University, where she will join the Bulldogs women's swim team. She connected with associate head coach Anthony Randall in her sophomore year and was sold on the program after she met the rest of the team.
"That was a very important thing to me, to be close with my teammates, especially being at college and away from home."
O'Neill plans to study health and pursue Fresno State's nursing program. On the swim team, she expects to focus on breaststroke and individual medley.
The 100-yard breaststroke was the event where she set her most recent school record with a fifth-place finish in 1 minute, 5.67 seconds at the Sac-Joaquin Section finals last year, cutting nearly four seconds off the record she set in her freshman year. She was a section finalist in the 200 IM and 100 freestyle during her sophomore year and made the section finals in both the 100 freestyle and 500 freestyle in her freshman year.
She's preparing for the next season with at-home workouts, with help from the Fresno State team and coaches' conditioning programs that they share through online videos.
"I'm definitely excited for the training that they have with the weight coaches, and all that stuff that I have never done before," she said. "I'm just excited to travel for meets, because the Mountain West division, we travel as far as Wyoming. It's going to be fun to travel with the team and swim in all of these places that I've never swam before."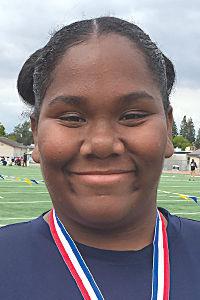 Tulane University, New Orleans
American Athletic Conference, NCAA Division 1
Melisa Toilolo was a sixth grader at Williams Middle School when the physical education teachers introduced everyone to track and field events and she learned how to throw the shot and the discus.
"I just tried it out. My PE teacher saw that I was actually really good," she said. "I started breaking records in middle school during sixth, seventh and eighth grades."
By her freshman year of high school, she was taking her events seriously and knew she could be one of West High's best all-time throwers.
"Once I got to high school, that's when everything skyrocketed," she said. "Once I got to high school and competed, I fell in love with it. I started to get people's attention during junior year and I just love it now."
During her freshman and sophomore years, she competed with Shantel Nnaji, who was two years ahead of her at West, and the two of them dominated the throwing events all the way up through the Sac-Joaquin Section meets until Nnaji headed off to Sacramento State. Last year, Toilolo broke Nnaji's shot put record with a throw of 43 feet, 11 inches.
Toilolo said that Sacramento State looked like the best of her five top choices, but when she heard from coach Christopher Johnson from Tulane University, she reconsidered.
"It caught my eye because it was out of state, and I've always wanted to go to a school that was out of California. Tulane came at the right time," she said.
"When I went there, I got to meet a lot of the athletes, and I just felt comfortable there," she added, noting that the large African American community in New Orleans and at the college appealed to her. "They just made me feel comfortable and they made me feel like I was wanted there. I loved the community, especially New Orleans."
She plans to study kinesiology at Tulane with a career goal of becoming a physical therapist.
Toilolo said her experience at West High, where she also played basketball, showed her how important coaches and teammates are to the pursuit of success.
"I have to give all my credit to obviously my parents, but to my coach, Coach (Bob) Loggins. He's been there when I was at my worst and lifted me up. He's the one that I really need to thank, and also Coach T.J. (Williams)," she said. "They have a great program and we're just a big family. If we see someone down after a meet, we pick them back up, and the next meet we bang out."