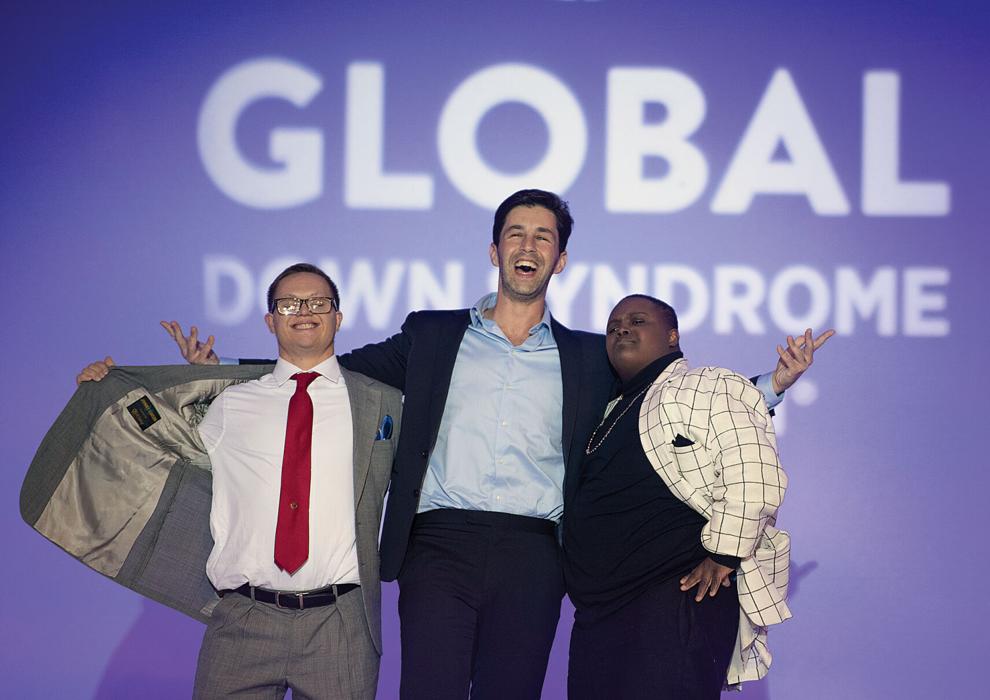 Sinai Alexander has long enjoyed getting up on stage and under the spotlight, so an opportunity to do just that 2 weeks ago, with top celebrities at a national event, was exhilarating.
Sinai, 15, was one of the models for the Global Down Syndrome Foundation's "Be Beautiful, Be Yourself" fashion show. The Nov. 12 event at the Sheraton Denver Downtown Hotel raised $2.2 million for the foundation.
The star power alone made this a premiere event, with a cast of more than 20 celebrities, led by legendary musician, composer and producer Quincy Jones, but the real stars were the models: More than 2 dozen individuals with Down syndrome stepped out on the runway as the highlight of the event.
"It was an awesome time," Sinai said, still exuberant 2 weeks after the event, where he got to meet some of his favorite celebrities and impress the crowd with his performance talents. He's a fan of the Nickelodeon teen show Drake & Josh, and Josh Peck, one of the stars of that show, turned out to be Sinai's partner for their turn on the runway, where he showed off a jacket and turtleneck ensemble created by his aunt.
Just meeting Peck backstage would have been the highlight for Sinai, who said that he, the other models and the celebrities were all in high spirits.
"Oh my gosh, he was so excited," Sinai said. "We'll all got in the picture and all of the people can see that we had a good time."
Tina Heard Andrews, Sinai's mother, said her son is naturally inclined toward the performing arts. He has created You Tube and Tik Tok videos to show off his dance moves, and he also finds opportunities to perform at Kimball High, where he is a sophomore.
"Since he was in the second grade he's been getting on the stage performing. His teaching staff told me that he should stay in performing arts," she said, adding after seeing the online announcement for auditions for the Be Beautiful, Be Yourself fashion show it looked like the opportunity he was waiting for.
"He didn't really audition to participate, but when he auditioned for fun, a couple weeks later the judges called and wanted him to be a part of the show," she said.
Sinai took his first-ever airplane flight, and upon arrival in Denver, Heard Andrews said that the staff from the foundation was welcoming and helpful, guiding the models through the weekend's activities, including the welcome reception, banquet and fashion show.
"Hopefully they'll allow us to come back and be a part of it next year. I know that this has been a long time coming for Sinai," she said.
About 1,400 guests at the event contributed to the foundation through the live and silent auctions. Money raised goes toward medical research into conditions that are prevalent among people with Down syndrome.
Model and actress Amanda Booth was the fashion show chair, and celebrities appearing at the event included actors Christina Ricci, Eric Dane, Caterina Scorsone, E.R. Fightmaster, Alexis Floyd, Midori Francis, Anthony Hill, Niko Terho; John C. McGinley, Brooklyn Decker, Zack Gottsagen and Sheree J. Wilson.
• Contact Bob Brownne at brownne@tracypress.com, or call 209-830-4227.