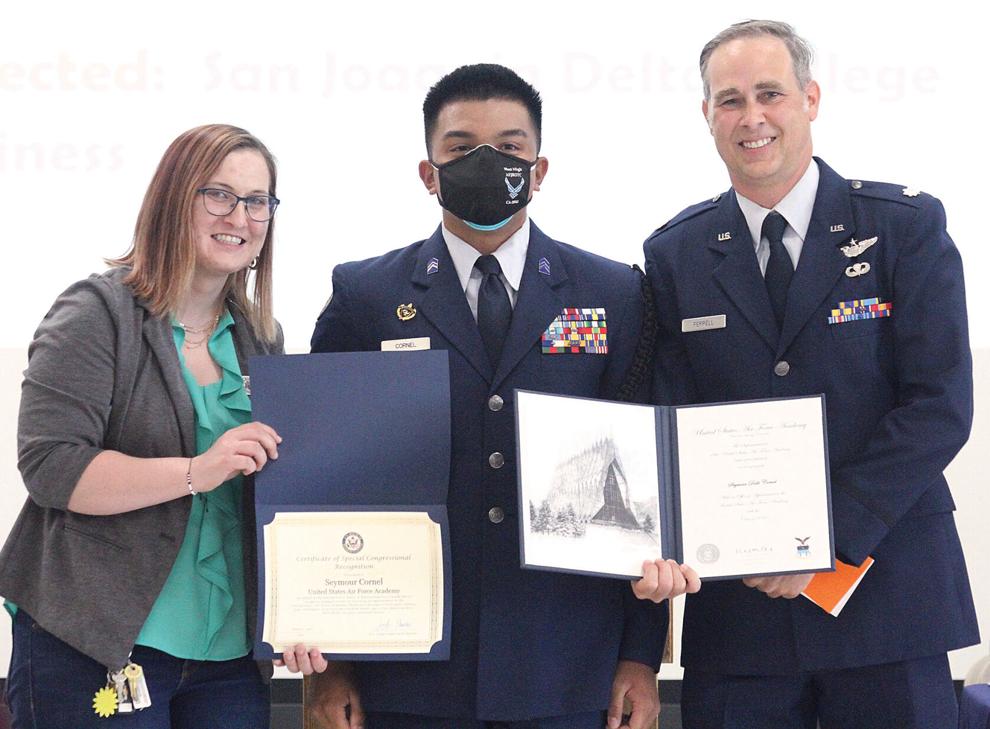 West High School Air Force JROTC Cadet Lt. Col. Seymour Cornel is aiming high after he graduates next weekend as the senior received an appointment to the U.S. Air Force Academy in Colorado Springs to be part of their Class of 2026.
Cornel's appointment to the academy was presented during the senior awards ceremony Tuesday evening.
"It means almost everything to me. It means my life, my future. It means a long time of hard work and dedication that built up to this day that I got accepted. This is going to be my life from now on," Cornel said.
He is a four-year member of the Air Force JROTC program at West and served as squadron and group commander this semester.
The JROTC department recommended Cornel to Rep. Josh Harder for a congressional nomination.
Maj. Archie Roundtree, USAF (ret.), the senior aerospace science instructor at West, recommended Cornel for a congressional nomination, saying he excelled in numerous cadet leadership positions.
"Seymour is hard working, determined, and detailed oriented. He is highly deserving of appointment to the United States Air Force Academy," Roundtree said.
Harder submitted his application and it was announced last week that Cornel had been accepted for admission to the academy.
Air Force Academy Admissions Liaison Officer, Lt Col James E. Ferrell and Katie Jaycox, Harder's military and veterans liaison, presented the appointment to Cornel at the awards ceremony.
"The Air Force Academy, for those that don't know, is one of the many service academies and we only accept the best of the best," Ferrell said. "Each year we have an acceptance rate of about 10% so you can see how truly outstanding it is for Seymour to get selected to this school. He is going to join the long blue line becoming one of the outstanding leaders in character in the world's greatest air and space force."
Ferrell said cadets take part in a wide variety of programs while attending class including aeronautical engineering, mechanical engineering, history and political science.
At the end of their four years of study students in the academy earn a Bachelor of Science degree in one of 28 majors and will be commissioned a 2nd Lieutenant in the Air Force or Space Force for one of the 33 career fields within the services.
"Graduates from the Air Force Academy have gone on to do many things from Rhodes Scholarships, CEO of the industry, politicians, generals, military heroes, professional athletes, astronauts — all sorts of things. And I can't wait to see what Seymour Cornel is going to do with this appointment," Ferrell said.
"I aspire to be a pilot but the main thing I want to be in the Air Force is a leader. That's basically what every job is but that's the main thing I want to be, is a leader," Cornel said.
Roundtree said Cornel oversaw the first official Headquarters, Air Force JROTC unit inspection of the West High AFJROTC Program. The unit inspection resulted in a rating of "Exceed Standards", the highest possible rating achievable. Additionally, under Cornel's guidance, the Exhibition Drill Team, Regulation Drill Team, and Color Guard Team received first and second place trophies in numerous drill competitions against Northern California JROTC units.
Cornel said the JROTC program helped prepare him for the challenges ahead.
"It is a great honor to be in this program, one of the best Air Force JROTC in the country, I would say," Cornel said. "I know this is going to be a lot of hard work the next four years and it's not going to stop there. When I graduate from the Air Force Academy it's not going to stop, it's going to keep going so I'm just excited for tomorrow and the days to come."
• Contact the Tracy Press at tpnews@tracypress.com or 835-3030.